Our Veterinarians
Beach Veterinary Clinic is proud to offer an extensive selection of veterinary care services to residents of Cortez, FL. Our team of highly trained, professional veterinarians is dedicated to the health and wellness of pets. With years of experience and a commitment to ongoing training and development, you can count on our veterinarians to always provide care that is compassionate and informed.

Dr. Jade Kafer, DVM
"The best part of my job is bonding with people and their pets, and helping to save the lives of innocent animals."
Dr. Kafer is a 2011 graduate of the University of Missouri where she received both her Bachelor of Science in Biology and Doctor of Veterinary Medicine. Although it pained her to leave behind her beloved KC Royals, she moved to Bradenton in 2014 seeking sun, beaches, and beautiful weather. When she is not at the clinic treating her beloved pet patients, you might find her running, traveling, or spending time with her family, which includes three pit bulls, Simon, Jasper, and Poppy.
Dr. Nicole Corning, DVM
Dr. Nicole Corning is a graduate from the University of Florida College Of Veterinary Medicine Class of 2014. She practiced small animal medicine for 2 years in the Florida Keys before becoming part of our Beach Vet family in 2016. Nicole truly has a passion for animals, which is why she chose to become a veterinarian. She has 4 cats and a Setter mix named Bear. In her spare time, Nicole loves to go to the beach or go Boating with her husband, Greg, and her daughter, Pearl.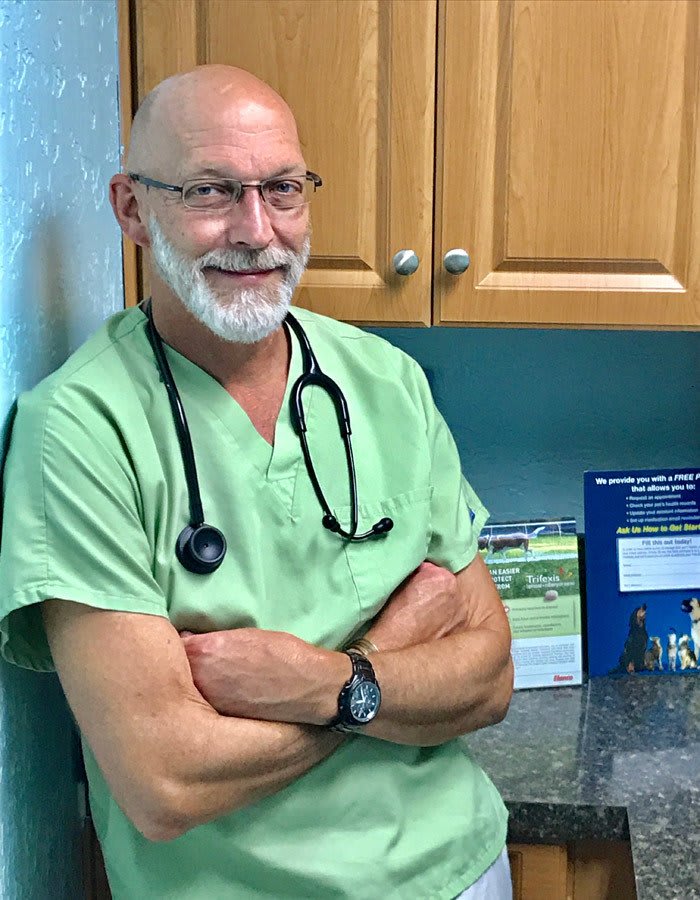 Dr. Crit J. Holland, DVM
Associate general practitioner, Dr. Crit J. Holland has cared for pets at Beach Veterinary Clinic since 2008.
Dr. Holland grew up with an interest in science and the natural world. He passed on a scholarship and a career in the forest service and instead pursued a career in veterinary medicine, for which he considers himself fortunate. He especially enjoys helping improve the lives of clients and their pets.
Dr. Holland attended the University of Michigan and received his Bachelor's degree in Zoology in 1977. He continued his veterinary education at Michigan State University College of Veterinary Medicine and was awarded his Doctorate of Veterinary Medicine in 1982.
Dr. Holland owned his own mixed-animal practice for 23 years before completing a six-month internship in equine reproduction and moving to Florida in 2004. Surgery, including orthopedic and soft-tissue procedures, is just one of his many professional interests.
Fishing and reading are Dr. Holland's favorite pastimes, though he can often be found working on small art projects, listening to music and playing sports. He and his wife, Adele, are the proud parents of three adult children, Abbie, Dylan and Greta. His animal companions include a Curbstone Setter named ZV and a cross-eyed cat named Sven, along with three horses back in Michigan (a broodmare and two potential quarter horse show-ers).