Newsletter
The veterinarians and staff at the Beach Veterinary Clinic are pleased to provide you with an online newsletter. This fun and fact-filled newsletter is updated on a regular basis.
Included in the newsletter are articles pertaining to pet care, information on our animal hospital, as well as news on the latest trends and discoveries in veterinary medicine.
Please enjoy the newsletter!
Current Newsletter Topics
World Rabies Day - September 28
September 28th is World Rabies Day, an international event established by the Global Alliance for Rabies Control to raise awareness of the deadly virus. And this year in particular is special because it marks 10 years of the holiday. The theme for 2016 is "Rabies: Educate. Vaccinate. Eliminate." With this in mind, it's the perfect time to take a few minutes to educate yourself about rabies prevention and treatment.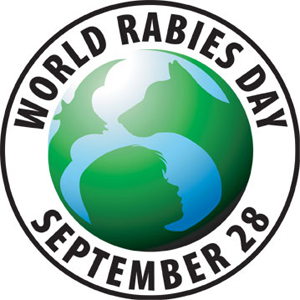 Rabies is caused by a virus that animals and people can get through exposure to the saliva or nervous tissue of a rabid animal, and is nearly always fatal without proper treatment. Rabies kills over 59,000 people per year; nearly 60 percent of those are children under the age of 15 who are unaware of the risks of rabies. In 95 percent of human rabies cases, the cause was a bite or a scratch from an infected dog.
Symptoms
Rabies is not always visible to the naked eye. However, the following symptoms are common in infected animals:
Staggering or stumbling
Unprovoked aggressive behavior or overly friendly behavior
Foaming at the mouth
Prevention
The Global Alliance for Rabies Control recommends that all mammals that are in frequent contact with humans should be vaccinated, but especially dogs, cats and ferrets. Additionally, vaccinations should always be kept up to date to ensure their usefulness.
In order to reduce the risk of exposure to rabies from wildlife, the Alliance recommends that pet owners feed and water their pets indoors, as even empty bowls can attract wildlife. Garbage should be securely covered, as the smell from an open garbage can will attract stray animals. Wild animals should never be kept as pets, and should never be approached, even if they appear friendly.
Treatment
If you're bitten or scratched by an animal that is unknown to you, you may have been exposed to rabies. Wash the wound thoroughly with soap and water and seek medical attention immediately. Once symptoms of rabies appear, survival is very rare.
If your pet is bitten by an unvaccinated animal, consult your veterinarian immediately to see if your pet needs booster shots. You should also keep your pet away from other animals, and watch your pet for signs of illness or unusual behavior for at least 45 days.
More Information
For more information on rabies and to find out about World Rabies Day events, visit the Global Alliance for Rabies Control website at www.rabiesalliance.org.
Aggressive Behavior Between Dogs at the Dog Park
By Mike Herstik
For those of us who frequent parks, we are not unfamiliar with dogfights. The aggression that we witness can occur between two dogs that have never seen each other or between two dogs that have had prior contact.
The reasons why dogs become aggressive at parks are due to dominance and prey aggression. Both types of aggressive behavior can easily get out of control. Correcting the aggressive dog (at the appropriate time) can prevent a disaster from occurring.
Dominance aggression is very common and is usually seen in non-neutered male dogs or dogs approaching puberty. Since dogs are pack animals and packs need leaders, it is not uncommon for a dog to assert himself. A hierarchy of individuals is formed as pack members challenge each other for positions of authority. Though this kind of aggression does occur among females, it is most prevalent among unaltered mature males or those approaching maturity.
One of the ways that a dog asserts its dominance is to assume a physically superior position over a subordinate. Mounting is the most obvious dominant position. Many owners mistake mounting for sexual behavior. Unless the animal being mounted is a female in heat, the mounting is probably a display of dominance. Some owners find this behavior humorous. By tolerating it, the behavior is encouraged. The dog views this as confirmation of its dominant status.
Dogs do commonly warn each other off with snaps or growls. These gestures are not intended as combat, especially when females react toward males. Although most of the time dogs usually work out hierarchy without resorting to actual physical combat, owners do need to recognize situations that can lead to disaster. Certain challenging postures (such as standing very erect, holding the head over another's back, direct staring eye contact and mounting) need to be corrected immediately by the owner.
If these postures continue to persist, owners should keep an eye out to make sure that a fight is not ready to erupt. Make clear to your dog that this behavior is not desired. Remember that gentle crooning does not dissuade undesirable behavior, but rather encourages it. Keep in mind that once dogs learn to fight they may form a pattern that is sometimes difficult to unlearn.
Prey aggression takes a form that is often misunderstood by pet owners and even professional obedience trainers. Prey aggression is not actually dog fighting, but is rather the psychological drive inherent in some dogs to chase, capture and seize prey. It generally occurs between medium and larger size dogs that show an exceptional fascination with smaller, weaker dogs.
The scenario often starts with the larger dog playing roughly with, or chasing the smaller dog. If the smaller dog begins to exhibit fear, this may stimulate the prey drive in the larger dog, causing him to play even more roughly. At this point, the larger dog should be controlled, otherwise the situation can get out of hand. The smaller dog or puppy may scream, and it is not rare for a larger dog to become so stimulated that it will grasp the smaller dog in a "killing" prey grip.
The specific actions described here in both dominance and prey aggression can vary, though most aggressive situations that occur in a place like a dog park generally fall into one of the two categories.
If your dog does get into a fight, try to remain calm and use whatever measured force is necessary to break it up. Be careful: breaking up dogfights can be dangerous. Consider your own safety first. In most cases, injuries sustained by intervening owners are far worse than the dogs suffer. Avoid reacting hysterically and screaming at the dogs and the other people. This just serves to add fuel to the fire. Do not insert a hand or foot between the two rival dogs because their natural reaction may be to redirect the attack to you.
Most dogfights occur between dogs that are owned by nice people who don't intend for their dogs to get into a fight. But you should know that ultimately you are responsible for your dog's actions.
Dogs may be our best friends, but their thought process differs from ours. Understand your dog as a dog. It doesn't mean you have to love him any less.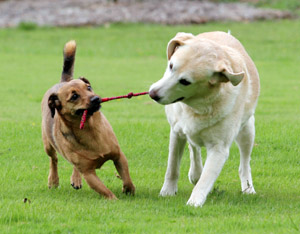 Mike Herstik (International K-9), is a consultant to law enforcement, military and government agencies. A professional dog trainer for more than 20 years, Herstik is the dog trainer for the LAPD Bomb Squad.
Did You Know? 8 Veterinary Facts
• Avian Blood Sexing- A blood test can answer the simple question, "Is it a boy or a girl?"
• Dentistry- If your pet has bad breath, drools a lot, paws at his face, or is showing a preference for soft food, he may be experiencing tooth problems.
• Deworming- All kittens and puppies should be routinely dewormed. A negative fecal sample does not necessarily indicate absence of parasites; eggs are shed intermittently.
• Endoscopy- Some foreign bodies, if detected in a timely fashion, may be removed via endoscopy, avoiding possible abdominal surgery.
• Lead/Zinc Testing- Lead and zinc toxicity is very common in birds. Symptoms may include weakness, bloody droppings, regurgitation, seizures or other strange behavior.
• Psittacosis Testing- Birds can harbor a disease called Psittacosis, which is contagious to humans, especially if the person is immunosuppressed.
• Rabbit Spay- If not spayed, 90 percent of female rabbits will develop uterine cancer. We highly recommend spaying your rabbit.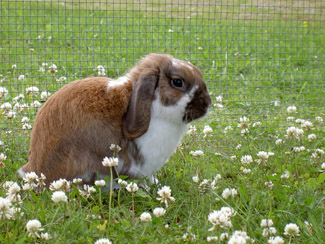 • Urinary Obstructions- Male cats that appear unable to urinate should be seen immediately. They may have a urinary blockage, which if left untreated can be fatal.
Kitten Play and Behavior
When cats play, they incorporate a variety of behaviors into their play. Aggressive play behavior is particularly common in young cats and in cats that live in one-cat households. Play provides young cats with opportunities to practice skills they would normally need for survival, such as pouncing, stalking, biting, scratching, and clawing. If humans play with a young kitten using their hands and/or feet instead of toys, the kitten is liable to learn that practicing these skills while playing with people is okay. In most cases, it is possible to teach your kitten or young adult cat that rough play is not acceptable behavior.
Since young cats and kittens need a lot of playtime, it is important to set up three or four consistent times during the day to initiate play with your cat. This helps her understand that she is not the one responsible for initiating play. This also helps to avoid unwanted pouncing at inappropriate or inconvenient times.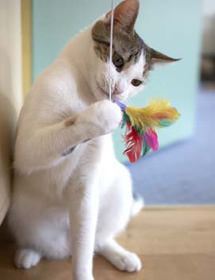 One way kittens play is by grabbing each other with both front feet, biting each other and kicking with their back feet. This is also a way kittens try to play with hands and feet if being waved in front of them. It is very important to avoid using any part of your body, like fingers or toes. Redirect your cat's aggressive play behavior onto acceptable objects like toys. It may take some trial and error to find the toy that works best with your kitten so make sure you try a variety.
Often, discouraging unacceptable behavior is the only avenue that is available. You need to set the rules for your kitten's behavior and your family and friends should reinforce these rules. Your kitten can't be expected to learn to differentiate between people in terms of when it's okay for rough play and when it is not.
• Use aversion techniques to discourage your kitten from nipping or biting- You can either use a squirt bottle filled with water or a can of pressurized air to squirt your kitten when she becomes rough. To use this technique effectively, you always need to have the spray bottle or can handy. Remember that aversion techniques only works if you offer your kitten an acceptable alternative.
• Redirect the behavior- After you startle your kitten with the air or water, IMMEDIATELY offer her a toy to wrestle with or to chase. This will encourage her to direct her rough play onto a toy instead of a person. It is recommended that you keep a stash of toys hidden in each room specifically for this purpose.
• Withdraw attention when your kitten starts to play too rough- If the distraction and redirection techniques don't seem to be working, the most drastic thing you can do to discourage your cat from rough play is to withdraw all attention. Since she wants to play with you, she is going to figure out how far she can go; however, you keep this limit consistent. The best way to withdraw your attention is to walk into another room and close the door long enough for her to calm down. If you pick her up to put her in another room, you're rewarding her by touching her. You should be the one to leave the room.
If you find that none of these suggestions work and your kitten's play increases in aggression or becomes unpredictable, it can be best to seek help from a behavior specialist. Kittens can bite or scratch through the skin, and abuse by your cat is not conducive to a caring and mutually beneficial relationship.